The LGBTQ Youth Space is a Program of Family & Children Services and Caminar for Mental Health.
We are a community drop-in center and mental health program for lesbian, gay, bisexual, transgender, queer, questioning and ally youth and young adults ages 13-25 who live in Santa Clara County. Our space is open 3pm-9pm Monday through Friday.
Our staff and participant advisors offer a safe and confidential space to hang out with:
support groups
art workshops
activism and leadership opportunities
movie nights
field trips
open mic nights
volunteer opportunities
free snacks
internet access
video games
safe sex supplies/condoms
connections to any resources you might need
monthly health van visits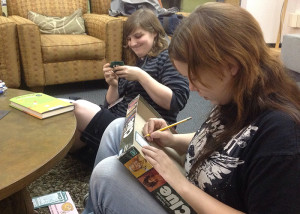 Our Mental Health Services are available to 13-25 year olds and are available in English, Spanish and American Sign Language. Services include:
Drop-In Peer Counseling
Individual Counseling
Case Management
Psychiatry
Off-site Services
The Youth Space outreach team can bring a gender/sexuality awareness workshop to your colleagues or students! In addition to workshops, we can also provide youth speakers from our Speakers Bureau to share their lived experiences with gender identity and sexual orientation. Our panels provide an excellent forum for dialogue and Q&A about identity(ies). We are able to consult with folks looking to establish or rebuild campus-based LGBTQ groups. Donations are welcome, but there is no cost for off-site services. To request any of these services, or to learn more about what we can offer, please contact Adrienne Keel at: akeel@fcservices.org or (408)343-7942.
Youth Space Staff
The LGBTQ Youth Space is staffed by team of LGBTQ and ally community members. We have diverse backgrounds in fields of social justice, youth development, mental health, social work, sexuality and gender studies, community organizing, public heath as well as arts and culture.
Some of our staff are peers between the ages of 16-25 and some of our staff are adult allies. We are all committed to youth empowerment strategies and are proud to be a part of a participant-driven program. We work with an awesome team of participant advisors ages 13-25 to inform all of our decisions. Please contact a staff member if you'd like to learn more about or join our Queer Coalition.
Confidentiality and Mandated Reporting:
The youth space and our mental health services are completely confidential. We will not share names or information about youth space participants with parents, schools, police or social workers without consent of participants involved. However, all of our staff members are considered mandated reporters. This means that if we see or hear about physical, sexual or emotional abuse of someone under 18, we are legally required to report the names and contact information of those involved to Child Protective Services. We do our best to inform youth participants of this law and protect confidentiality and safety given these requirements. Please ask staff if your have any questions or concerns about confidentiality.